---
TURN YOUR FIRE PIT INTO A SPOOKY CENTERPIECE

Prepare to have the creepiest fireplace or fire pit in town. Skull fire logs took over the internet last year, and we'd be lying if we said that we didn't get excited for them this Halloween season. Those chilly fall nights around the fire are going to be spookier than ever.

THE SCARIEST HOME ON THE BLOCK

The human skull-shaped logs are among the scariest home decor you can get. Whether you fill your fire pit with the eerie logs or just sneak one in to alarm unsuspecting guests, they're sure to make an impact. When the log is placed just right and you ignite the fire pit, it looks like the flames are blazing out of the eyes.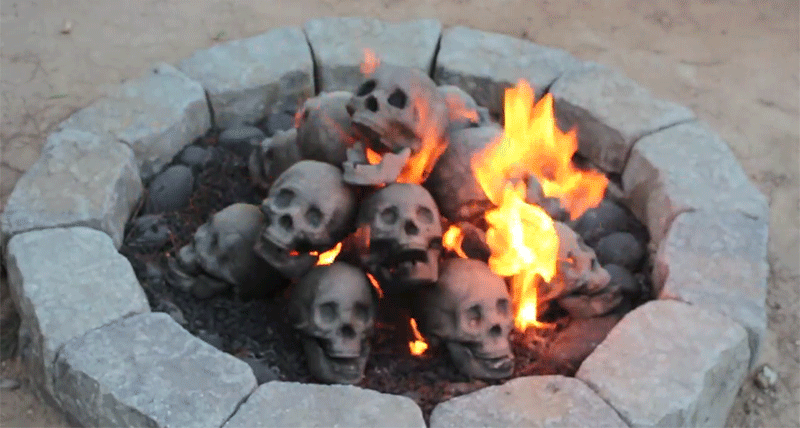 ► GREAT CONVERSATION STARTER - These skull logs add an element of fun to gatherings around the fire with family and friends.

► AWESOME VISUALS - Flames rise out of the nose, eye sockets, and top of the skull log, keeping you entertained while watching the fire


► HIGH-QUALITY FIREPROOF SKULL 
- Our skull logs withstand temperatures of up to 1,800°F and can be reused for years on end.
► SPECIAL PACKAGING FOR MAXIMUM PROTECTION - We use generous amounts of foam when packing our skulls to ensure maximum protection during transport.

► NON-TOXIC:  Crafted from heat-resistant refractory ceramic fibers without toxins or harmful chemicals. This allows for a clean burn that is harmless to your friends and family.

► DETAILS
Material: Ceramic soil
Size: 3.6" x 3.1" x 2.5"/9.14cmx7.87cmx6.35cm
Color: Gray

FIRE PIT NOT INCLUDED