---
Don't let a clogged drain ruin your day!
This handy tool has a flexible metal wire that easily bends around bends and corners to remove hair, grease and other debris that causes clogs. The ergonomic handle offers a comfortable grip, while the looped end makes insertion and retrieval easier. Perfect for sinks, bathtubs and showers, this wire drain cleaner is a must-have for any home.

✓ Fast-acting formula - Works quickly to dissolve and remove clogs, saving you time and effort.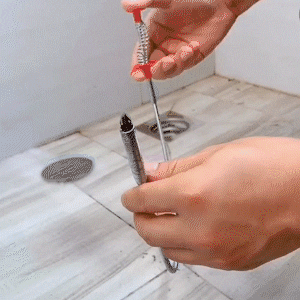 ✓ Versatile use - Safe to use in all types of pipes and drains, making it a versatile solution for all your clogging needs.

✓ Prevents future clogs - Regular use of our drain cleaner helps prevent future clogs, keeping your pipes flowing smoothly. 
✓ Convenient application - Comes in an easy-to-use bottle with a precision nozzle for targeted application, so you can apply it exactly where you need it.
✓ Safe and effective - Made with safe and effective ingredients that are not harmful to your plumbing or the environment.
Specifications

✓ Length: 80cm
✓ Material: Metal
Click "Add to Cart" now and enjoy a worry-free ride with the FlowFixer™ Drain Cleaner! Notice! Offer has a limited validity!